Art Materials I use for your Pet and Family Portraits
I work in two mediums:
acrylic
and
pencil
. They are both very expressive and can look great in any home. You can go to the
Gallery
to see examples of artwork created with both. Please read about the materials I use below. I am happy to advise on medium based on your photographs anytime, just
contact me
.
Acrylic Paintings
I use acrylic paint for my paintings because it is very versatile and has almost no drying time. It is water based, but becomes completely water-resistant when dry. Acrylic doesn't fade and it keeps extremely well.
Portraits are painted on stretched fine cotton canvas. I mostly use Italian made Belle Arti thin edge canvas. I work with thin layers when painting with acrylic starting with a one-colour sketch. I then move onto adding colour into the painting and layering paint to create depth in the overall portrait. Because acrylic shrinks when dry, I make sure to cover every inch of the canvas.
I post the paintings as they are, on stretched canvas. They are ready to be hung, but can also be framed depending on the clients' taste.
Graphite Pencil Drawings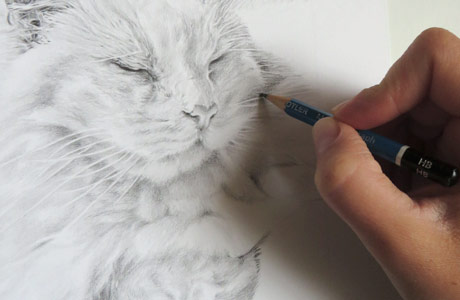 Graphite pencil achieves a great amount of detail. It has great light and shade qualities. Drawings are created on traditional Italian made Fabriano paper and a fixative is applied to finished drawings for durability. The paper I use is Fabriano 5 with cotton and has a beautiful texture which comes through in the drawing. Drawings are delivered in a mount ready for framing.
I use Staedtler, Daler-Rowney and Conte graphite pencils. For tinted portraits, I use Polychromos coloured pencils made by Faber-Castell. I don't use any erasors or smudging accessories, so as not to loose the freshness of the pencil. When shading, I prefer to use graphite of several hardness, starting from HB all the way to 8B. Although my favourites are 2B and 4B.
If you would like to order your own pet or family portrait or you would like to discuss your portrait commission, please do not hesitate to contact me by filling out my contact form or simply emailing your photographs or ideas.