Sicily Landscape Painting
Landscape Painting in Acrylic on Canvas
This landscape painting was painted from a holiday photograph in Taormina, Sicily in 2010. The photograph was adjusted to fit a square format and I wanted to interpret the brightness and heat from the sun the day the photograph was taken. Besides pet portraits and family portraits, you can have any good photograph turned into a painting or a drawing. I you would like to discuss your own commissions, do not hesitate to contact me.
Landscape Painting in Acrylic
Below is a scan of the finished acrylic painting. It was painted on a deep edge canvas 50 x 50cm in size. The edges were painted a colour to suit the overall painting - in this case blue. There is no need for framing paintings with painted edges, they are ready to hand as they are. I provide a picture cord at the back if clients wish to leave paintings unframed. If you prefer a deep edge canvas to a standard edge, let me know when ordering. A deep edge is approximately 4cm deep (1.5") and a standard edge is approximately 2cm deep (0.75").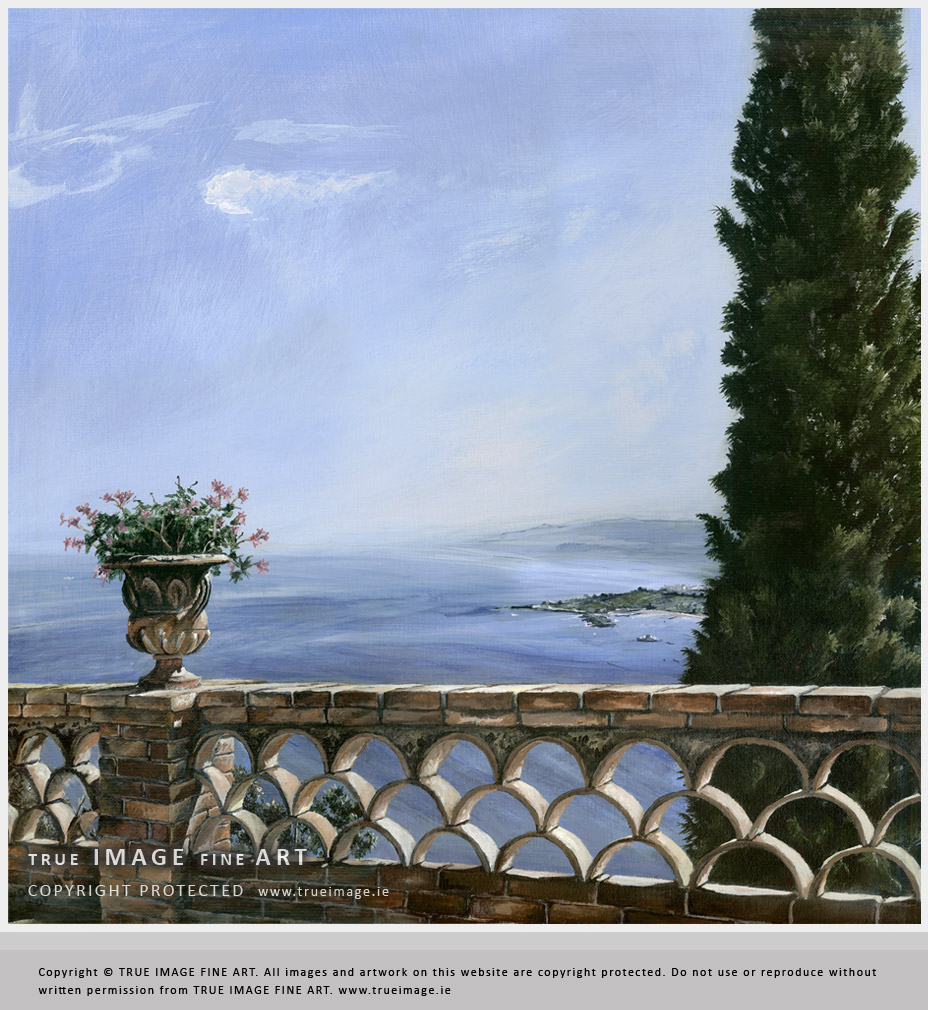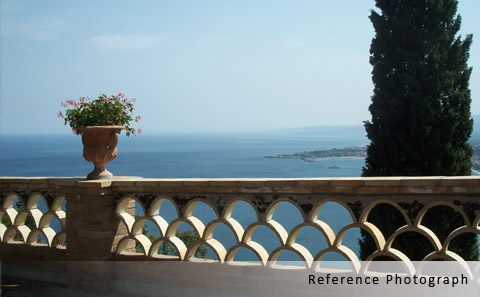 Reference Photograph
For this landscape painting I have worked from one photograph. I adjusted the image to a square format, added more sky to the top and tilted the entire image. You can make as many adjustments on your photographs as you like before the painting or drawing process begins. Just let me know when sending your photographs. If you require some help or advice on preparing the best composition for you painting I will be happy to help.
Original Paintings
I often have original paintings that can be purchased here on the website together with art prints and greeting cards. These include works that were created by myself and not for commission such as wildlife artwork and landscape paintings like this one. Previously commissioned works that you see on this website are available for purchase as prints and cards only by the client and for their use.