Welcome to the True Image Portrait Studio!
My name is Ivana and I am a professional portrait artist working from my studio in county Kildare in Ireland. I create hand painted and hand drawn pet and people portraits from photographs. On this website you will find a gallery of my previous commissions and more information about the unique service I provide. I work closely with every client to create the perfect pet portrait or family portrait for them. Most of my commissions are given as special gifts to pet owners or family members.
Choose the Style of Your Portrait
All artwork is completely hand created and you can choose between acrylic painting or graphite pencil drawing. I only use the best quality of materials and if you are not sure what style captures you most, you can browse through the website where you will find more information. You can also contact me with any questions or queries you may have. I am always open to new challenges and I will welcome your comments.
Visit the Gallery
My gallery consists of previous commissions painted in both acrylic and graphite pencil. It includes dog, cat, horse portraits and portraits of other animals. I also create people portraits examples of which can be seen in the gallery. With the original pet portrait you can order prints and greeting cards of your commissions. Besides commissioned portraits I often work on wildlife art paintings which are available for purchase as original artwork or as art prints and greeting cards.
Art in Progress Blog
I post progress photographs and scans of current commissions an my Art in Progress Blog. You can follow your portrait commissions develop and leave comments and feedback.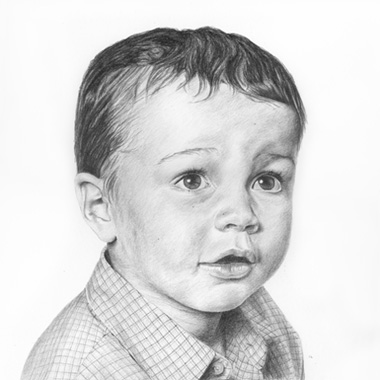 Pet and People Portraits in Graphite Pencil and Acrylic
All pencil portraits, be it pet portraits or people portraits are drawn using professional quality graphite pencils on Fabriano paper. All of my drawings come in a conservation grade mount ready for framing. All acrylic paintings are created with artist quality acrylic paints on stretched canvas. The canvas is suitable for framing or to hang as is.
Portraits are created from your photographs and you can adjust the composition yourself giving you control over you commission. You can use one photograph or combine a few to create you memorable pet portrait or family portrait. Follow the drawing or painting progress on my Art in Progress Blog.
If you would like to order your own pet or family portrait or you would like to discuss your portrait commission, please do not hesitate to contact me by filling out my contact form or simply emailing your photographs or ideas to info@trueimage.ie.
"I love the picture, you captured them both perfectly, especially Oscar.... I received it yesterday morning and took it straight to the framers, it's lovely. You did a wonderful job, thank you very much!"
Charlotte on the portrait of her labrador Hamish and cat Oscar, county Kildare, Ireland