Testimonials
This page contains testimonials and feedback from some of my previous commissions. Besides testimonials, clients are welcome to comment on their drawing or painting as it is developing in the Art in Progress Blog. They are welcome to amend their portrait when it is finished or still in progress.
Or they can simply let me know what they think of the portrait. I also love hearing from people who receive their portrait as a gift.
To see the latest artwork, visit my
Portraits Blog
. If you have any queries or would like to commission your own portrait, please
contact me
.
"Ivana, I just wanted to thank you for the amazing portrait of myself and Tiger, it is truly amazing. When I have passed it will be a great reminder for my wife Claire and my two daughters and five grandchildren. Wow everyone who sees it are blown away. So thank you for your skill and keep extending the hand of friendship.
Charlie and Tiger"
Charlie Bird on receiving a
portrait painting of him and his cockapoo dog Tiger
from Pieta House, November 2022
"Hi Ivana! Thank you for sending the image. I think it is perfect, absolutely gorgeous. You really captured him...I am sure Brendan will love it. He will be sad initially too, but also something to treasure. I am sure I will be in contact again. The process is so smooth, but your talent is amazing."
Mary, county Kildare, on commissioning a pencil drawing of her good friend's father who passed away recently, 2022
"Hi Ivana! Thank you for completing the drawing and sending over a scanned copy, I have just shared with my sisters and we all love it, thank you so much for this. It's perfect…
Thank you for your beautiful drawing of our family home. My mum and dad are so so delighted with it and can't believe how beautiful it is. Thank you so much for creating such a special piece of work for a very special celebration…
I will definitely be in touch again with some more requests and will be sure to pass your name on to family and friends.
It has been lovely to get to know you. Thanks again and take care…"
Eleanor on commissioning
her parents' family house drawing in Kilcock
, Kildare, 2022
"Hi Ivana! All I can say is wow. It's absolutely unreal, the detail in it is something else, it's perfect. It is going to be a gift from me and my friend in Australia so I was waiting for her to get back to me on it also and she loves it too. You are absolutely gifted!" Ciara, Ireland, on commissioning
a wedding portrait drawing of two couples of two generations
in Summer 2022
"Hi Ivana! Wow, it looks amazing! Thank you so much for working on it! We are delighted with it, you have a gift..."
Cian and his sisters on commissioning
a wedding portrait of their friends
, Kerry, 2022
"Hi Ivana, Wow wow wow..I am absolutely thrilled with your pencil drawings. You really captured our Beloved Parents and even my Dad's twinkle in his eyes...
You're such a talented & amazing artist, I will be highly recommending you! I have to say your attention to detail is superb & I'm so so happy I asked you to commission these wonderful drawings. We will forever appreciate it. Your wonderful portrait of Dad will be in Douglas Community Centre for future generations to see..thank you so so much. It was always our Dad's intention to have a pencil portait of him as previous Chairpersons on the wall in the board room. Your portrait is spot on, absolutely amazing. My siblings are in awe too. I know our Beloved Mam & Dad are smiling proudly above. I'm forever grateful."
Claire from Douglas in Cork, commissioned
two pencil drawings of her parents
as a keepsake in 2022
"Dear Ivana, This looks absolutely mesmerizing, I loved every single detail and the coloring spectrum! It's so beautiful, thank you so much for you hard work it was truly worth the wait...
Anyways, Tom unboxed the package yesterday and he was amazed! The amount of details you've put into this piece of work is magnificent! He adored the coloring choices and the whole aesthetic of lighting the painting.Thank you so much for the hard work, I'm glad that our paths crossed through this painting and it's definitely not the last time. "
Hamdan on the painting of two bicycles overgrown with grass, commissioned as a gift in 2022
"They look great Ivana. They're so lifelike. Just like the pics but better...
...I just want to take this time to give a huge thank you from Tara and I for the beautiful portraits. Quite simply they're incredible, better than any photograph and have a life, soul of their own. Exactly what I hoped they'd be but even better. Tara was reduced to tears with just how brilliant they were and how personal these portraits are going to be for her. We love them. Thank you so much, and we will definitely be back to you in the future for our family portrait, if that's OK.
Yours kindly,"
Noel, Tara and Harrison, on commissioning
two portraits of their cat and family
in 2022
"Morning Ivana,
my god it's beautiful……..it's just him. You've captured everything perfectly. I think my husband will be very very happy when he sees it. Thank you so much.
Am looking forward very much to seeing it in the flesh so to speak….!
...I just wanted to say I gave my husband the portrait of his grandfather Sam yesterday (no time for presents on Christmas Day!) and he was in tears. Bittersweet memories of his grandfather as they were very close, and Sam died 30 years ago on New Year's Day.
So thank you Ivana, I think this meant a lot to him."
Martha, on commissioning a pencil drawing of her husband's grandfather Sam Haden who was a professional footballer in the 1920s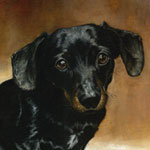 "The painting is really lovely, I felt I could almost pick Zak up - it is so true to form, and I feel you have captured his personality so well. Thank you again Ivana, I am very much looking forward to seeing the finished painting."
Marie, county Kildare, Ireland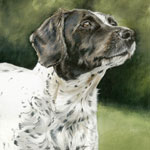 "I've been looking at the progress on the blog and I am so impressed at how well you've captured Judy's likeness and personality...Judy's portrait was there waiting for me when I eventually got home late last night. It's a fabulous piece, I'm so pleased with it and I cannot wait now until August 21st when I get to give it to my partner....I've been meaning to email my thanks to you since my partner's birthday back in August. To say he was impressed with the portrait is putting it mildly, so thank you once again."
Shirley, county Meath, Ireland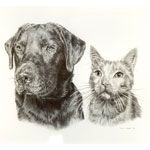 "I love the picture, you captured them both perfectly, especially Oscar.... I received it yesterday morning and took it straight to the framers, it's lovely. You did a wonderful job, thank you very much!"
Charlotte, county Kildare, Ireland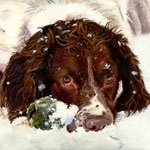 "I received the painting. It's absolutely fantastic! You really captured Aidan in the painting and I love it. Thanks so much."
Ervin, Dublin, Ireland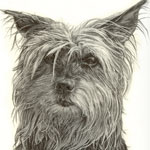 "I received Skippy's portrait yesterday. I was so excited to receive it and was delighted with the result. You took an awful lot of care with packing and of course I ripped open the plastic before I read your instructions!! No damage done I think. Will look into framing next week - probably something neutral and simple. Thanks again for everything and I will treasure your drawing....The finished portrait is just lovely. I'm delighted. You have done a great job with the tangles...I really appreciated the opportunity for input as you went along..."
Skippy's owner has asked to remain anonymous, Dublin, Ireland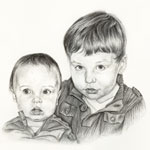 "It is georgeous, I saw it on your blog. It is a great service you provide....I have just got home and seen the picture - it is beautiful, I am delighted with it. Thank you so much. I know the family will be delighted with it."
Mary, county Kildare, Ireland