Testimonials
This page contains testimonials and feedback from some of my previous commissions. Besides testimonials, clients are welcome to comment on their drawing or painting as it is developing in the Art in Progress Blog. They are welcome to amend their portrait when it is finished or still in progress.
Or they can simply let me know what they think of the portrait. I also love hearing from people who receive their portrait as a gift.
To see what I am working on today, go to the
Art in Progress Blog
. If you have any queries or would like to commission your own portrait, please
contact me
.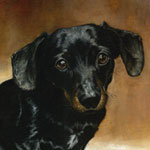 "The painting is really lovely, I felt I could almost pick Zak up - it is so true to form, and I feel you have captured his personality so well. Thank you again Ivana, I am very much looking forward to seeing the finished painting."
Marie, county Kildare, Ireland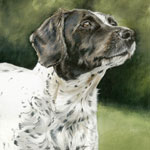 "I've been looking at the progress on the blog and I am so impressed at how well you've captured Judy's likeness and personality...Judy's portrait was there waiting for me when I eventually got home late last night. It's a fabulous piece, I'm so pleased with it and I cannot wait now until August 21st when I get to give it to my partner....I've been meaning to email my thanks to you since my partner's birthday back in August. To say he was impressed with the portrait is putting it mildly, so thank you once again."
Shirley, county Meath, Ireland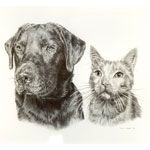 "I love the picture, you captured them both perfectly, especially Oscar.... I received it yesterday morning and took it straight to the framers, it's lovely. You did a wonderful job, thank you very much!"
Charlotte, county Kildare, Ireland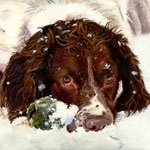 "I received the painting. It's absolutely fantastic! You really captured Aidan in the painting and I love it. Thanks so much."
Ervin, Dublin, Ireland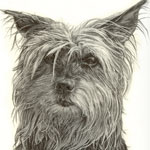 "I received Skippy's portrait yesterday. I was so excited to receive it and was delighted with the result. You took an awful lot of care with packing and of course I ripped open the plastic before I read your instructions!! No damage done I think. Will look into framing next week - probably something neutral and simple. Thanks again for everything and I will treasure your drawing....The finished portrait is just lovely. I'm delighted. You have done a great job with the tangles...I really appreciated the opportunity for input as you went along..."
Skippy's owner has asked to remain anonymous, Dublin, Ireland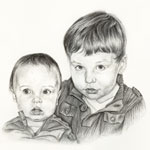 "It is georgeous, I saw it on your blog. It is a great service you provide....I have just got home and seen the picture - it is beautiful, I am delighted with it. Thank you so much. I know the family will be delighted with it."
Mary, county Kildare, Ireland