"Bert" Norwich Terrier Pet Portrait in Pencil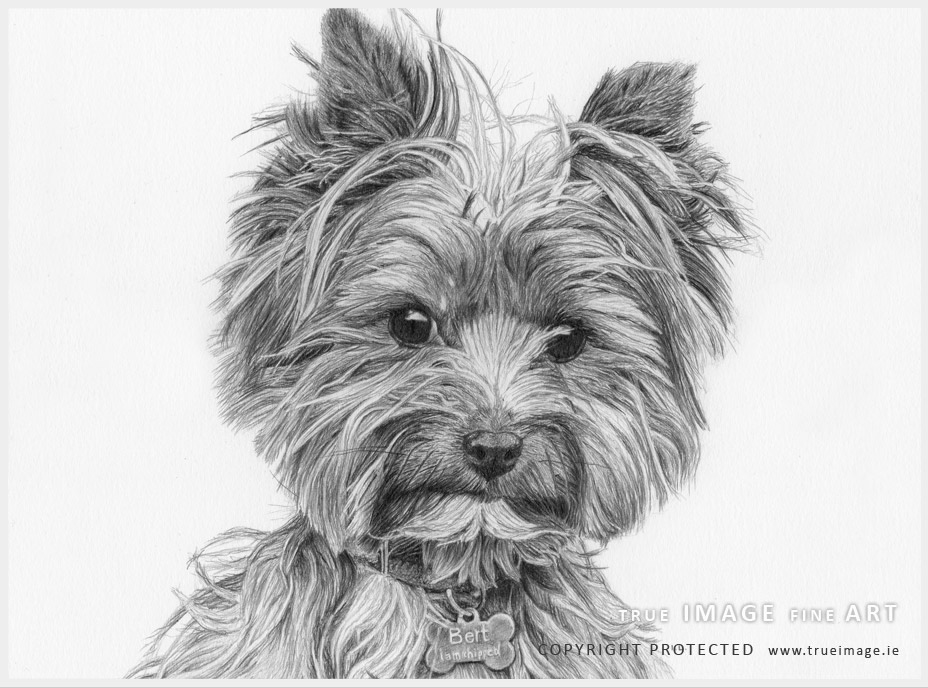 Reference Photograph
Portrait Information
Drawing size: 25 x 20cm (10" x 8")
Medium: graphite pencil on paper
Year of Completion: 2013
Country: Ireland
About the Commission
This portrait is one of two commissioned by a client in Ireland. It is of a norwich terrier called
Bert
. The client commissioned this portrait together with that of
Ernie
for her sister's birthday.
Both portraits were the same size 25 x 20cm (10" x 8") with graphite pencils on paper. The reference photographs were particularly clear and the client wanted to keep the dog's tag with his name in the portrait.
The client had a fantastic photograph of Bert as a reference. I had a lot of detail to go by and this makes the portrait so much easier to work on. It was a pleasure especially as Bert is such a cute character too. The tag was a nice touch of subtly adding Bert's name into the drawing.
The portrait turned out really well and the client's sister was very happy with the result.
Read client feedback below
.
Client Feedback
"Hi Ivana, the drawings are beautiful, thanks a million...
thanks so much, they arrived safely. My sister absolutely loves the two drawings! You are so talented."
Oonagh, Dublin, Ireland
The Drawing in Progress

If you would like to order your own pet or family portrait or you would like to discuss your portrait commission, please do not hesitate to contact me by filling out my contact form or simply emailing your photographs or ideas.